2010.09 September
Saturday 4 September 2010
DS, NW, FL, GD, KBS, MR, MA, PT & RT set of in the sunshine to climb up through Muntham to Windlesham, continuing north to cross the A24 and climb Chanctonbury by the west flank. After PT had caught up, we proceded to the Ring to admire a view over the misty weald. Branching south from the SDW down Buddington Bottom, we re-grouped at the vinyard after MR suffered a Blasteet. Up past the pest house to Gallops farm, then to the top of Stable Lane and surprisingly west to finally enter Findon via the Monarch's Way. JR joined us at Nepcote Green, then all bar RT repaired to Nepfield close for a gallic brek laid on in style by FL and Les Girls. 10 miles, and 1095 feet climbed, in glorious sun.
Saturday 11 September 2010 – Sheep Fair Day in Findon
DS started the day by texting various gentlemen to see if he had missed the departure of the peleton at 7.37am! He had not and GD arrived shortly afterwards after a detour to drop off items at the Sheep Fair. MR duly arrived to complete the FGCC attendees for the morning and the Peleton set off out of Findon past the Fire Station. We turned right and then rode through worsening weather up the spur to the right of the vineyard and on up to Chanctonbury Ring. The rain and wind became more persistent and stronger and at this point, MR decided to head for home.
GD and DS did not and turned left onto the Lion Trail which was rapidly completed in slippery conditions. We left the field at the bottom of the trail by turning left and following the track that runs west across the base of the Downs. Slow progress was made as the gears on DS's bike were jumping and seizing in equal measure. The trail started to ascend and then for the second week in a row, the tortuous climb up the west face of Chanctonbury was tackled. At the top we turned right which was followed by a rapid descent down the route we had initially climbed earlier in the morning. At the crossroads, we went straight on to relive our youth with a bout of apple scrumping. GD had spotted a gloriously laden tree to the right of the track and after an initial taste, they were described as delicious and DS climbed the tree to pick the best fruit. Amazing to think that this lovely tree had probably self seeded 25 years ago after someone had casually tossed an apple core into the long grass! Superb eating apples and there are still plenty waiting to be picked!
GD and DS then returned to Findon where they separated to make ready for the Sheep Fair.
In summary, a brisk ride across demanding terrain in inclement weather with a total distance covered of 10.5 miles. TM was not present so feet climbed was not recorded but at least as much as the previous week would be a pretty good guess.
(Note from PT – traced the route on the Satmap, and clims total was 1380 feet!)
Saturday 18th September 2010.
RT, FL, DS, MR and GD set off on this bright sunny morning, a moderate westerly wind was fighting our progress as we headed out of the village to Muntham Farm and onwards to the barn and the SDW.
DS suffered a bilious attack on the climb to Muntham and swore blind it had nothing to do with the session the previous evening with JR and FL! (perhaps it was the poor alignment of his new carbon handlebars? DS adds – could have been a contributory factor for sure!)
As we continued west along the SDW towards Amberley RT suffered a major 'blast-eet' when his rear tyre was ripped open by a flint. Fortunately it occurred at the bottom of a sharp descent as he was slowing down. FL and MR gave their assistance and we were back in the saddle in no time.
From Amberley we returned easterly back towards the SDW taking the KBS loop half way up the climb. We continued on the roller coaster contours back towards the barn and at the Chantry Lane car park, gazing out towards the sea, GD made a schoolboy error by commenting on Arundel Castle and an apparent difficulty of appreciating its particular geographic location in relation to the many views of it from different parts of the SDW. RT, sharp as a knife, immediately stated that the member was displaying the directional prowess of a female! Heaven forbid! It was a with a red face GD led the others out of the car park toward the barn, Muntham and the, soon to be, ploughed field into Findon.
FL and MR said their farewells at the butchers while the rest enjoyed a Village House brek – splendid meal up to the usual standard with lovely black pudding…
Perhaps PT could assist with mileage and climb? (a plot on the Satmap gives a route of 17.0 miles, with 1532 feet of climbs – subject to checking the traced route!) But it was a glorious day with great views across the downs.
Reg 17 next week!
DS adds – Yes, I almost threw up in the saddle on the way up past Muntham. Having had just 5 pints the night before, I started to worry that living in the South for this long had finally taken its toll and I was metamorphosing into a soft, shandy-drinking, Sussex ladyboy! I am delighted to report that this is not the case as I returned to Grantchester House to find a family with digestive problems which we have subsequently attributed to a Pork and Bean Casserole that Mrs S rustled up on Friday! It was delicious, so worth the trouble it caused.
Tuesday 21st September 2010
GD, JR and DS went for a quick practice blast in preparation for Reg17. We left Findon via Nepcote Green and headed up the Monarch's Way to the top of the Downs. From there we turned left and made steady progress in gloriously still, windless conditions to Chanctonbury Ring where we enjoyed a fine sunset and excellent views of Sussex on all sides in the clear evening air.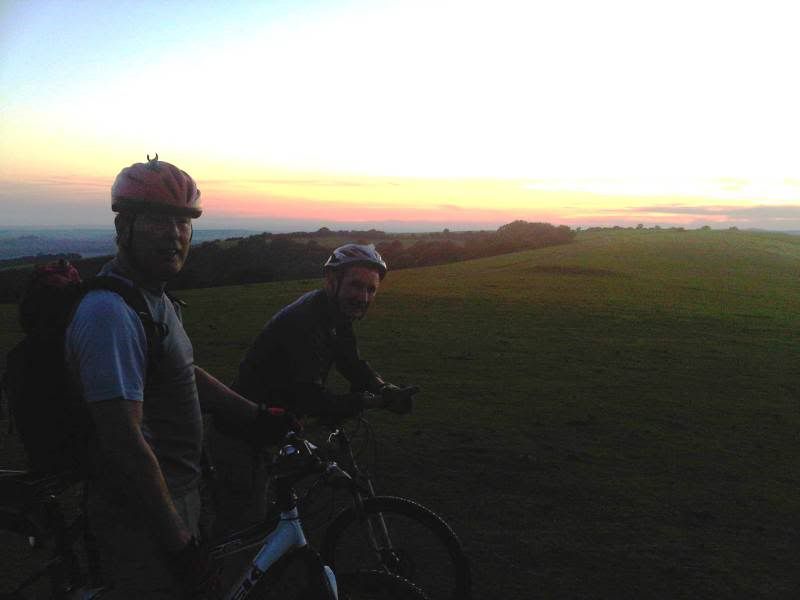 As the light faded, we headed down the western spur of the ring at some speed (33.1mph recorded!) and arrived in Findon at dusk. We adjourned to the Snooty Fox bar for an impromptu EPM for Reg17 and the Harvey's was so nice, we stayed for 4 of them each!
Lovely ride as summer draws to a close in lovely conditions. Distance travelled – 7.5 miles. Climbing – probably about 600 feet?
Reg 17.
Friday 24th September 2010
JR and GD set off from Tudor Close just after midday with LSV, packed full of luggage, bound for Cocking via the Harveys shop in Midhurst. By the time JR and GD dropped off everything at Moonlight Cottage it was 1.40pm so they donned helmets and set off east to meet, in arrival order, KBS, MA, ZA, RT and PT. DS, stuck in Toulouse (DS edit – thanks to a general strike by the bloody inconsiderate French!), was not able to join us at this stage. Our weather for the day was overcast with a constant threat of rain and an unusual, moderate, north westerly wind that was against the Findon cyclists.
JR and GD covered about 12 miles before meeting the peleton just east of Bignor, initially traveling through villages and country lanes to the north of the downs before making the climb to SDW though woodland near East Lavington. GD suffered a 'blast-eet' on the A 285 which hampered their progress for about 10 minutes.
The peletons finally met up at about 4pm as the Findon gents emerged, one by one, from the steep climb to Bignor. Instead of returning on the SDW, after consultation with the map, we decided to take a lower bridleway westward. This all ended in disaster, well, KBS literally flew down a path for about 1/4 mile before realising that it was not the right one and to the amusement of all had to cycle back up again, (we needed something to slow him down!). Abandoning that route we backtracked and rejoined the SDW at Bignor for a quick break and traditional Jaffa Cakes, kindly provided by PT.
The ride down from Bignor to the A 285 was fast and furious and not without incident. KBS, in front for a change, was on a particularly fast stretch and at full speed met two deer bounding from south to north across his path, he was so close to hitting them that if there had been a third one we would have been eating venison that night, and possibly visiting KBS in hospital!
There was one more merciless climb from the A 285 back up to the top of the SDW and then it was a gentle five mile ride down to Moonlight Cottage. A hot shower, followed by barrel of Harveys, a good meal from our hosts Steve and Sue, some fine wine and port and a relaxing evening was subsequently had by all.
Saturday 25th September 2010
Return from Reg 17.
This morning saw a couple of members with sore heads but all of us felt the previous days toll on our legs. Still, a full English breakfast lovingly prepared by Steve set us up handsomely for the return journey and after many more cups of tea, we finally prepared ourselves. It was at this moment DS arrived at Moonlight Cottage, buzzing from a heroic 2 1/2 hour ride from Findon. His tale of 'the escape' from Toulouse amazed his audience and was met with astonishment. Whisked home on a private jet while thousands remained stranded, only DS could have achieved this, hats off.
After refreshing on bacon butties and tea, DS and JR set of in the LSV while the remaining group took on a more gentle route home than that of yesterday. The plan was to cycle south from Cocking and follow the downs on the south side. This went according to plan until KBS noticed a bridleway and PT confirmed it did actually cut off a large corner of our route. However, there was a penalty to pay in taking the short cut as it took us back to the top downs again, hey ho!
At the top we were graced with an aerial display by a WW2 Spitfire. Initially, out with a modern light aircraft, practicing formation flying it broke off for a spot of freestyle and we were treated to loops, victory rolls and several high banking manoeuvers, it was quite spectacular and was obviously arranged by the PM for the benefit of the peleton.
Following this KBS broke his chain and another rescue link was added before we were on our way again. We passed Bignor on the south side and began our descent to Amberley. This bridleway descends some 600 feet from Bignor to the river in Amberley and was a just reward for the grueling climbs the peleton have accomplished so far. In Amberley we parted company with ZA and met JR, who had cycled to Bignor after leaving the LSV at a car park south of Storrington. Unfortunately our paths did not cross on the downs and JR was left bouncing about the SDW solo until then. In Amberley we took tea and Sandwiches at the Boathouse and composed ourselves for the last few miles back to Findon. It was a gentle ride back from there parting company with JR at the car park where he collected the LSV, the remaining members completing the last couple of miles downhill into the village and home. An excellent ride and thanks to all who helped to make it what it was.
Saturday 25th September
Ride to Reg 17 – Peleton 2 – just DS!
DS writes….. After being left hung over, stranded and very annoyed in Toulouse thanks to the combined efforts of Sleazyjet and the bone idle cheese eating surrender monkeys, I met at the usual time outside the butchers and applied the 10 minute rule. No-one else turned up so at 7.40am, I set off towards Cocking in absolutely perfect conditions. Glorious cool air and a crystal clear blue sky.
I made good progress onto the SDW and then had a memorable experience just after the car park at Spring Head. I had the sun directly at my back and managed to ride within about 25 feet of a yearling roebuck as it stared at me from the path! He realised I was there as I neared and set off up the hill towards the copse where I assumed he would disappear into the foliage. He duly did, only to bound out of the wood at the far side and then proceeded to lead me all the way down the path to Amberley Mount! Nice to see!
The descent to Amberley was rapid with some good air gained off the natural jumps in the path. I then passed through Houghton and started the climb up towards the road. I am obviously much fitter than this time last year as it was not too bad! The climb was interrupted when I came across this delightful little chap who was on the path, soaking up some early autumn sunshine! Unusual to see him at this time of day as they normally hunt at night.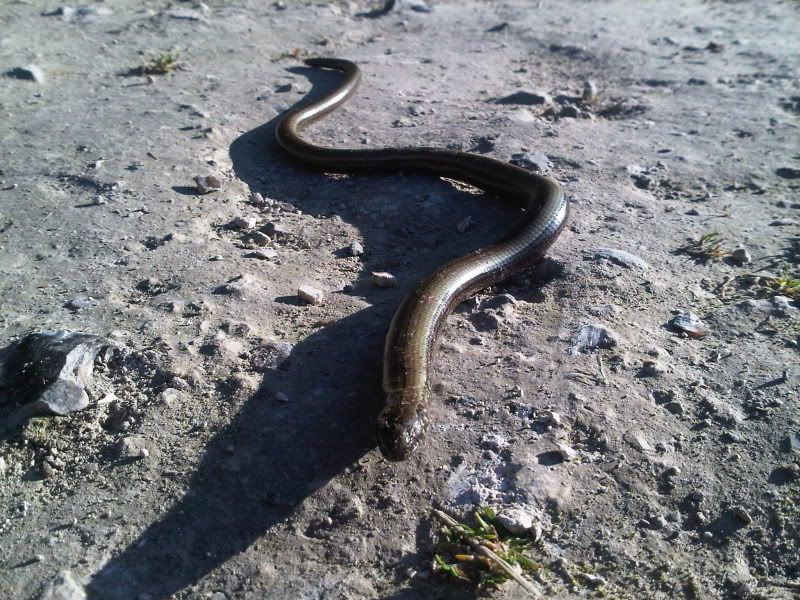 From there, I nipped across to Bignor and called Moonlight Cottage to see where we could meet. PT said I could probably get there in a short while and get a bacon sarnie and a cuppa. This was all the motivation needed to put my foot down and I pulled into Moonlight Cottage about 30 minutes later, 2 hours and 25 minutes after leaving Findon. What a difference a new set of wheels makes!
JD kindly dropped me off at Rackham and I was home for 1145 to earn a fantastic amount of brownie points from Mrs S! Shame I missed the dinner and cameraderie but I did enjoy a lovely fast paced ride with some nice fauna spotted along the way.